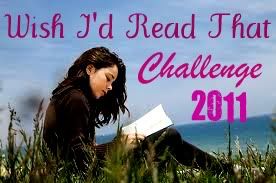 Some of you out there may declare me crazy for this, but I've decided to participate in another
challenge
for 2011. This one is focusing on books that I wished I had read or books in my To Be Read Mountain. Anyone who has seen the way that I have books squirreled away all throughout my bedroom will know how desperately I need to get to some of these books, some I've been meaning to read for only a couple months, many I've been meaning to pick up for years.
Since I have so many books in my TBR mountains, I decided that I would participate at the top "obsessed" level. I'll have to read twenty books. Bring it on!
Since the new year is just around the corner, here are the first couple of books I'm hoping to complete for the challenge:
I first heard about
My Life as a Book
over the summer. One of my professors said it was hilarious and a great book for reluctant readers. I hope to start reading this one within the week!
I'm about half-way through
Mr. Monster
's prequel,
I Am Not a Serial Killer
right now. I'm enjoying it enough that I picked up this book in a bookstore today. It'll be skipping its way to the top of my To Be Read mountain.
Wish me luck! And consider
joining in
. It's sure to be a good time!